Story Time: Exodus 20: 1-21
(Read together in your bible)
This chapter in the bible tells us about the rules that God gave to Moses for all people to follow. These rules help us to know how we should act toward each other and how to honor God. God called Moses up upon a mountain and spoke these rules to him and Moses took two large stones and carved God's rules into the stones. These rules are called the 10 commandments. God trusted Moses to teach these rules to the Israelites so that they would follow them and believe in God!
Things to think about:
What kind of rules do you have at home? Why do your parents and other adults make so many rules? Rules are there to help keep us safe and to help us know right from wrong. God used his rules to teach people how to act toward one another. Can you think of a rule you have at home? Your parents love you and so does God and that's why we have rules!
Craft/Activity:
Sit down with your family this week and talk about the rules in your house. Are there any rules that you can come up with that you haven't thought of before? Talk about the rules you have at school and at home and how they are different, but they are all there to keep you safe and healthy. For extra fun: make a list and hang it on the refrigerator. Don't forget to also look at God's rules for us and see if you are following His rules too!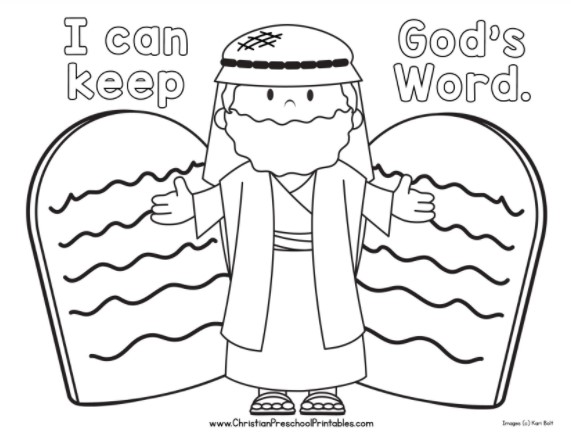 Pray together:
Dear heavenly father, thank you for making rules to keep us safe and happy. Whether it be at school, at home, or even at the grocery story, help us to follow the rules so that we can people who honor you! Forgive me when I forget to follow the rules and help me to learn from my mistakes. Amen.